Seasons
August 27, 2012
Spring

First light through the darkness,
First flutter, first sigh.
Sweet rain on the budding flower
Turning grey bleakness to colour.
A myriad of sunlight,
Reflecting red, white and pink
Amidst the fresh green, blossoms float
Like boats before they sink.

Summer

The stifling summer heat
Is enflamed by lovers hearts.
The sugar scent of honeysuckle
Bleaches the white-hot sky,
While the endless chant of cricket cries
Fill the heavy air,
Cherry-faced passer-byers cannot bring themselves to care.
And the dazzling miday sun,
Is a deathly gem by which the earth is scorched.

Autumn

Autumn has given place
To a sea of reds and golds.
Overhead the titans roar
And weep their salty tears once more.
Children dance and prance and laugh,
Along the soft shadow-lit path.
In the endless wind the way is lost
As the days creep slowly into frost.

Winter

Cold is the snow Jack has sown
Across the pale blue morning sun.
With glittering icicles the chimneys he has crowned,
With a downy white mantle has he strewn the ground.
Out of the alabaster the ruby berries leap,
As the town slumbers in a heady sleep,
Save one girl with eyes so bright
As she gazes upon her kingdom of ice.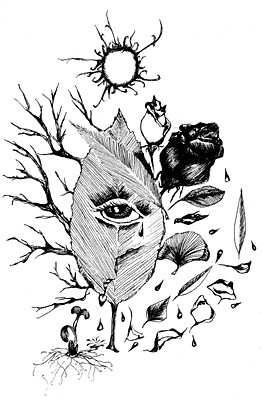 © Cara L., Cheney, WA