Prison Life
MAG
November 4, 2012
Routine.
It's all about routine in this concrete cage.
Leave your individuality at the gate, 'cause in here, we're all the same.
Bloodless, lifeless.
All cogs in the penitentiary machine.
Shuffling mindlessly through the grind, 'cause we're accustomed to it by now.
We're all used to swallowing the lies they shovel down our throats daily.
It's gotten to the point where we're accepting that two plus two equals five.
Waking up to bloodshot eyes and deprived minds, desperately clawing and scraping at the pavement, attempting to escape.
Drifting away into vacant thoughts, ideas, prayers.
Imagining yourself somewhere less decrepit. Somewhere less bound. Somewhere less organized and restricted. Somewhere free.
Masking your desires with sandpaper smiles.
Having to deal with dealers of falsehood, praying this won't be the day you shove a shiv into the poor sap's sternum.
Washing grotesque meal after grotesque meal down your gullet with a glass of fallacy.
Sitting in the same colored chair everyone else is sitting in, silently wishing for a break of the routine.
But a break doesn't come until the final bell rings, and school is let out.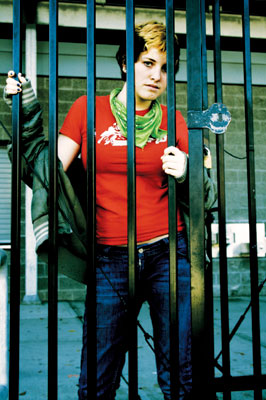 © Jessica C., Corvallis, OR