I could tell you the love story of our moments
MAG
November 12, 2012
Explain to you our days and weeks and years.
Pull out photographs,
Point out old friends.
Try to recapture what has gone,
Not been lost,
Simply pushed away
Back into our past.
We could sit here together for hours,
Watch the sun come and go,
Feel the tides rush in, recede, rush in
As I try to put into words all of the times we fell in love.
I could write a novel on the way your lips felt against my neck,
Light, like butterfly wings and dreams.
Pages after pages simply on your hands,
How they filled all the spaces between my fingers,
Within my soul,
Like a map.
My compass.
Leading me home.
I could show you the collection of memories
Stored up in the attic,
Dusty now,
But well-worn once, well-loved.
Hand you old Christmas presents, birthday cards,
All the letters we wrote,
All the ones we merely thought.
I could explain to you the moment that I knew,
Ah,
This –
Yes.
This: is love.
That moment when our eyes lit up,
Recognition in our shared gaze.
I could sing for you old wedding vows,
And promises made late at night,
Under the bedsheets,
Our bodies tucked so tightly together I felt as if we were one breath, not two,
One dream.
I could recite for you the dates of every night I slept on the couch,
Curled up, lonely, and hurting,
After fights I no longer recall.
Of how, I would always wake up, back in our bed,
Morning light struggling in,
And we would pretend it hadn't happened,
Filling silences with sorrys and I love yous.
I could tell you the love story of my life,
Our life,
But you wouldn't truly understand,
Not until you find your own,
You have that moment of realization.
I could tell you of our love
Until the ocean broke its bounds
And the sea carried us away,
As I've been once already
Borne away by the memories of our moments.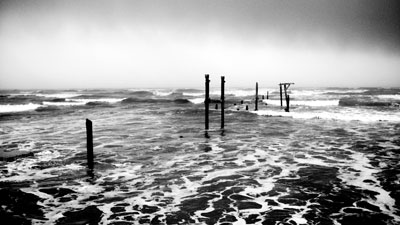 © Harrison L., Ruston, LA