The Warden
December 12, 2012
To all of you
I am the homebody
The hermit
The recluse
But to me, I am merely a prisoner
Held captive in these four walls
Daily, I am visited by the invisible warden
Whom no one can see, but me
He keeps me here
Not through shackles
Not through chains
But through eternal fear

My two lungs shrink and shrivel
Whenever he comes near
His eyes bore into my soul
Blood boiling
Skin burning
Eyes swollen shut from hot tears

My hearing ceases.

Flight overcomes fight
My willpower is far too weak
Crawling into the farthest corner of my cell
I barricade myself.
Every time he visits
I crudely fashion a thicker wall,
Between me and the outside world
Soon, utter isolation.

Every day, I pace my confined, dank room
Trying to find the courage to break down these walls
Every day I chip away
At what I have built up my entire life
Every day I hope
Every day I pray
That when I finally break down these walls
He won't be waiting for me
On the other side.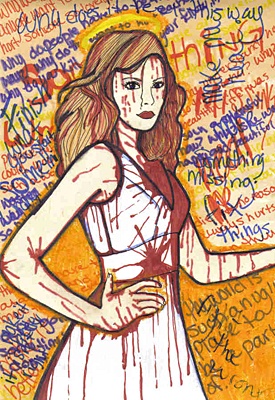 © Sara D., Aiken, SC