Too Late
December 24, 2012
Standing on the edge.
Staring in his eyes.
Watching the waves roll in.
As the tears fill his eyes.
The waves crash at their feet.
People walk down the beach.
He's unable to say what he wants to say.
Unable to say what's in his heart.
Pretending that it isn't real.
So he won't have to feel.
He can see the pain that is there.
He just chose to ignore it.
Pretending that the pain isn't real.
Things just seem to be moving too fast.
Moments that don't last.
Wanting to change the past.
As the sun starts to set.
Tears form in her eyes.
He slowly starts to walk away.
She stands staring at the sky.
Wondering how things got this way.
Not knowing what to say to make him stay.
The waves crash against the shore.
As her heart shatters.
Watching as he walks away.
She steps close to the waves.
He never looked back.
Just continued to walk away.
As she walked into the waves.
Wanting her pain to disappear.
Wanting to no longer be able to feel.
Looking back one last time
at the boy who broke her heart.
He's still walking down the beach.
As the waves drag her down.
Being pulled under without a fight.
Getting farther from the light.
He stops and turns around.
Hoping to see her one last time.
People begin shouting,
she's going to drown.
As he runs back to the shore.
She can't be seen anymore.
He begins calling out her name.
As he walks into the waves.
Searching for some sign.
That he isn't too late.
That he still has a chance. As
she rises to the surface.
He reaches out his hand.
Praying that she will forgive him.
And open her heart once again.
As he grabs her hand
the waves pull her down.
Thinking he will lose her again
he pulls her towards him.
Looking into eyes that no longer shine.
He carries her to the shore.
Praying for one more chance.
Hoping he hasn't lost her yet.
People start to crowd around.
As he tries to save her life.
Finally saying all the things
he wanted to say.
Saying the words she wanted to hear.
Just saying them a little too late.
As her mind starts to cloud.
All she can hear is his voice.
His words that he finally said.
His voice telling her to fight.
Her eyes grow tired.
As she blocks out the world.
His tears are falling on her face.
Wishing to turn back time.
Wanting her to understand.
That even though it went unsaid.
She meant everything to him.
She was his reason for living.
Praying to god to take him instead.
Not wanting her to be taken from him.
Hoping for a miracle.
As she slowly starts to slip away.
Telling her how much
he needs her to stay.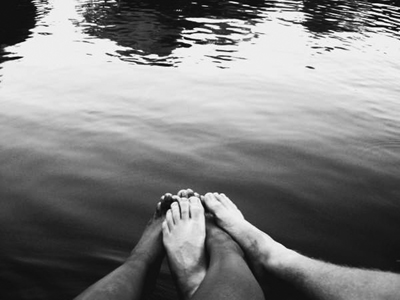 © Michelle W., Ada, MI