A Stone and a Kiss
January 8, 2013
Every day a stone and a kiss,
Was dropped from a hand to his final resting place.
My father, being the man he was,
Rewarded with cement rubies for his acts of benevolence.

All the stones he earned,
Were left with me, the only child breathing of seven.
And I took on sole burden to lift the stones,
One stone a day, to his decorated grave.

When new work came I had to go,
A place where they said my clothing was unacceptable,
So I spent the first day's earning,
At a store to buy new clothes.

Work was hard and so,
No longer had I time to walk to his grave,
I had not seen the dirt that covers him for years,
Nor my mother, busy with the silver coin.
Two sunrises passed before she, too, died
A silent death it was,

But I did not have to take her stones to her grave,
But took one of a father's to lay on his grave as we buried her.

They put an oil machine right on the path to my father,
But I didn't notice until a year later,
When I, again, tried to bring the stones to my father's mound,
Only to be turned back by a white hand.

A large wheel crushed a pile of stone,
Thankfully not my fathers, but another's
I witnessed the tears that were shed, for
No stones on a grave means nothing was ever done.

So to not disgrace, the man that gave kindness
To a world without affection,
Who gave generosity to a world without charity.
Each day I brought a stone to his grave.

I go around the oil machine,
To enter the grounds in which my mother and father laid.
And now, every day, I go with sweet bliss,
To drop at my father, a stone and a kiss.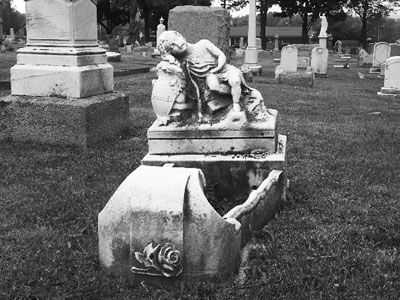 © Christina B., Weedville, PA