Mirror
January 14, 2013
Mirror do you think I'm beautiful?
Then why do you call me ugly?
Mirror do the faded lines the warped view
Does it all ring true?
Mirror do you draw the circles of fat
on my thighs?
Mirror do you tell me to starve for more
Mirror, are you listening at all?
Mirror do you understand?
Do you draw the great moons in my cheeks?
Do you send that shiver through my spine
Do you cut the happiness from my vine?
Mirror do you know me at all?
Do you think I stand erect and tall
Do you wonder what lies in the haunted features
Of your most frequent visitor?
Mirror do you like to torture me?
Do you smile when I cry?
Do you send the whips of misery
And do you laugh when inside I die?
Mirror are you an illusion
Or is there genuine hate in your eyes?
Why do I drink in your deadly poison
every single day, like soft dying snowflakes melting in the rain?
Oh, and by the way
Mirror, please will you go away.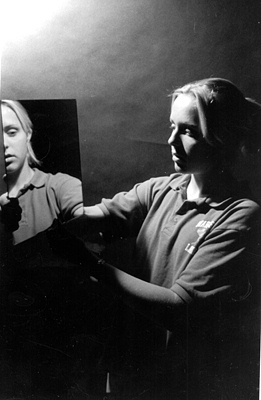 © Hadley B., Marblehead, MA