Talk of Revolution
January 30, 2013
Freedom. Liberty. Patriots. Loyalists. Revolution.
War.
Surely not.
Why not?
We'll find a compromise.
Nah, little Johnny here wants to fight a war.
Violence is never the answer.
This isn't question/answer. It's life/death.
It doesn't have to be.
At least kill the royal brute.
Then who'll govern us? That soldier outside the door?
No! I'm sure that Washington guy will do.
Washington. Ben Franklin. John Adams. King George.
Words. Names. Wars. Governments. Revolution.
Independence.
Where am I?
The dinner table. 1775.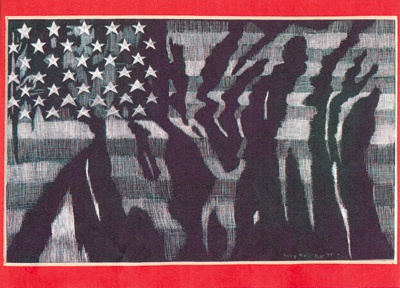 © Haley M., Ellinwood, KS