The Gift
February 4, 2013
Sneakers crunch
the ancient gravel
and kick up sparks of dust
in a flurry of competitive adolescents.
Down the dirt trail to the beach,
past the sand dunes to the ice cream shop,
the yellow paint on the door peeling more than it did before.
The woman at the counter
is now the mother of two,
and no longer the girl
with the braces
and the red streaks in her hair.

Motors roar
through the water
and send tidal waves spraying across the lake
in the midst of unrestrained laughter.
Under the rumbling bridge to the pacific waters,
past the idle trout to the little island,
now crowded with trash, no longer undiscovered.
And the donut-shaped tube
that was once bright red
has now faded
to salmon pink,
and holes have punctured its skin.

Our childhood has ended,
and we stand taller,
and wiser,
and no longer afraid
of the haunted forest in the distance.
What will become of us now, you ask.
You say the most precious thing
has been taken from you,
your youth.

But you are wrong,
for there are things
on the other side of this mountain
that we can't see from this point of the trail.

Beautiful things.

Our happiness is a gift we have been given;
it is our turn to give it.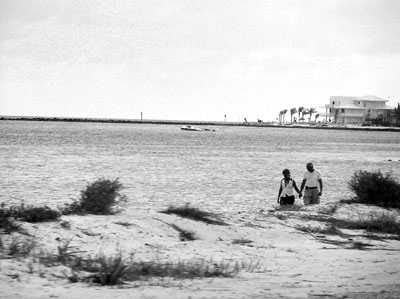 © Edgard B., Coral Springs, FL