The Piano
April 12, 2013
My fingers glide off
Each smooth
And lonesome key.
The bare and exposed walls
Glare down on me.

I can feel the flying notes,
Heavy,
Then light.
Almost tasting bittersweet
In this moonlit night.

Scent of coarse wood
And ivory
Fill the somber room.
The piano vibrates
As echoes bloom.

The tempo slows
To deathly tones
The wooden instrument
Softly groans.

The cries of each key
Can tell
Sorrowful tales.
The music page
Leads the way,
A map to unknown trails.

Drapes waltz to the harmony,
Driven by the wind.
Sunshine peeks through
The open windows;
Night is almost at end.

I continue to play;
These particular notes
May
Make you smile.
Mournful music leaves behind
A tune I've known for a while.

Chirping birds fly on
The still,
Stone windowsill.
They're songs matching,
They're goal is to fulfill.

Like the notes
Around the room,
Let the rhythm
Sway you.
It's really quite amazing
What a piano
Can do.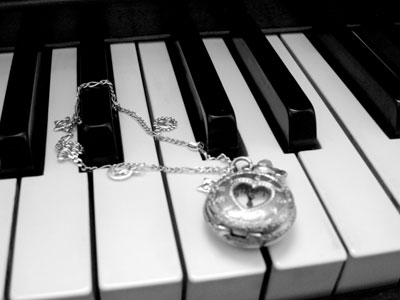 © Emily P., Albany, NY