In Love with Dreams
April 23, 2013
Ten startling eyes of naiveté
Was what started it all.
Johnny, Michael,
Yasi, Lucie,
And me.

Five mortals who believed in immortality
Clashed when minds were still young
Where a handmade wastebasket beheld
A collection
Of innocent ideas.

For I was so in love with dreams.

Johnny and Michael skirmished for Mayor—
A battle which Michael won at first.
Yasi became the pet-sitter
Who fed and cared for my stuffed elephant
And Michael's stuffed potato.

Lucie was Storyteller
With her tales of how the popular girls feared her
And ran away on high heels,
Clutching their satin skirts
When she as simply as called their names.

And I became the Servant
Who fetched glue sticks and scissors
To any of their commands—
Though most came from Johnny.

It was lighthearted, really.
I didn't mind my name as Servant.
I didn't mind the fact that
Every time something went wrong,
Johnny and Michael and Yasi and Lucie
Would laugh, "Margaret's fault."

For I was so in love with dreams.

Sometimes, when I was feeling defiant
And not at all in the mood to get up,
Johnny would joke
That I had been exiled from the rest
And that I was to form an island of my desk.

The other three
Were also exiled numerous times
And Johnny was impeached,
With Michael new in office.

For I was so in love with dreams.

Slowly, slowly,
The innocent jokes took a turn to wrong
But "wrong", in fifth grade, was nothing more
Than an occasional tidbit of toilet humor.
The society we had created,
The islands, the continent,
Took the new name of Wrongville,
And thus, Wrongville Chronicles was shaped.

Bulletin on a recent fart
Or a minute too long in the school bathroom—
Everything was recorded
By none other than the new Editor,
Me.

For I was so in love with dreams.

One day, Teacher snatched the newest issue
Of Wrongville Chronicles from our hands
And handed it to Principal.

Phone calls went home,
Tears were shed,
But so were hushed whispers
And the soft sound of laughter.

For I was so in love with dreams.

But good things never stay,
Do they?

I thought you dreamed
I thought I dreamed.
No, not dreamed.
I thought I dreamed.
I thought I dreamed of life without boundaries,
I thought I dreamed of life without impossibilities,
And I thought you knew.

Then why
Why
Why
Does it hurt
To think back on
What this Wrongville used to be?

I don't know, Johnny.
When did it die, Yasi?
Lucie, it's barely anything.
Michael? Answer me.
Who is Margaret?
Where is Margaret?
Who are you?!
You imposter!
You stupid impost—

For dreams are no more.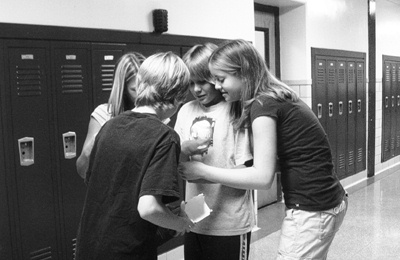 © Kathryn K., Pompton Plains, NJ