Under the Moonlight
May 5, 2013
Under the moonlight and
in the open field
is where we spend
most of our time.
Some nights, we'll just
lay in the grass
together and stare at
the many stars.
They're light so incredibly
blinding.
The pitch black sky
behind them making them
shine brighter.
I'll inch my hand
over to hers and
our fingers will interlock.
We'll talk about the
most interesting part of
our day, and then
I'll pull her so
close to me.
So close.

Other nights, we'll sing
and dance to the
musical whistle of the
floating leaves.
They're everlasting songs are
like a pitch perfect
choir.
Even after we're worn,
we'll wrestle in the
dirt.
Nature burying us in
its abyss of a
coffin.
Sometimes, the scurrying animals
will join our rumble.
Their bodies and minds
never getting tired.

My favorite nights are
when it's too dark
to see, even with
the moon above our
heads, so the blazing
lightning bugs swarm around
us, providing a dome
of color.
She'll sit next to
me, our backs against
the soft tree.
I'll run my fingers
through her straight brown
hair and tell her
how much I care
about her.
Care so much, I'll
love her even if
she breaks my heart.
Then she'll rest her
head on my shoulder,
and I'll read her
the best romance poems.
Before I can finish
the last poem, she'll
drift off to sleep,
and I'll carry her
all the way back
home.

Yeah, those are my
favorite nights.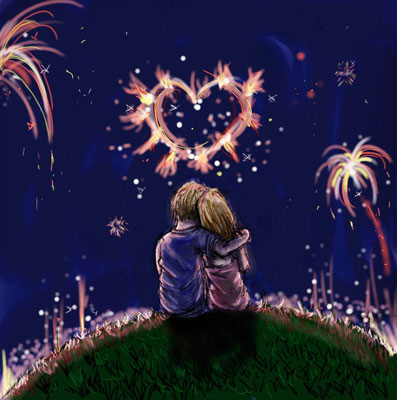 © Carissa G., Aberdeen, WA