Looking Glass
June 4, 2013
I saw a woman in my window this morning
"Who are you?!"
I exclaimed in fear.
Astonished, I realized she was me.

When did she become me?
I'm only a girl!
Not a woman…

This woman was beautiful.
Her pale oval face
Was dotted with freckles
Her soft brown hair caressed her cheeks.

Not so with me.
My round, doughy, face
Is plagued by acne.
My long brown hair falls in
Tentacle like tresses down my back.

Her blue eyes were open wide.
She was as frightened as I was.
Her pink lips parted as if she were about to speak.
Behind them I could see two white teeth.

My eyes aren't right.
They are dim.
I need glasses or contacts.
My lips are to big.
To big for my trumpet at least.
My teeth have a yellow tinge
From the coffee that makes me human.

She wore no make-up
Neither do I.
She wore my sunglasses
On top of her head.
Just like I do…
…I remember having freckles
…Before the zits at least
Our eyes are both blue.
And we both have brown hair…

Could she really be me?
Does this mean I am a woman?
Am I as beautiful as she?
…Oh wait.
I forgot.
She is me.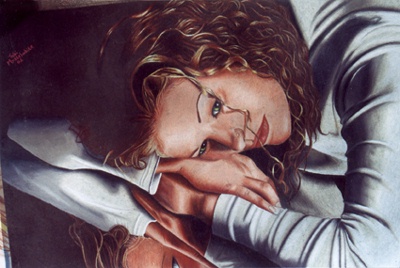 © Tabitha M., Kannapolis, NC