Writers Lineage
August 27, 2013
When I entered first grade,
I knew my lineage well.
We're a family of writers
This I could always tell
Even before I was told.

Because I learned
Everything from my pens
And pencils.
All neat in their little boxes.

Don't fall in love to quickly,
They warned,
Or you'll never know
if there was a better way
Of doing something
Like playing in the snow,
I was taught to
keep my values strong
And be a good and warm person
In a world of bitter and cold.

From the sharpies I learned,
That things are permanent
And some are temporary
But you shouldn't expect either.
And I was taught that
If you scratch things out,
You might lose them forever.

And from the highlighters I learned
That somethings
Are more important that others
But that doesn't mean
They're without purpose
Because I also learned
The importance of punctuation
And especially the comma
(Lets eat grandma
Lets eat, grandma
Anyone?)

From the pencils I learned,
That things will change
But change can be good.
And I learned that
not everything
has to be saved-
Sometimes it's okay to erase a number.

From the Erasers I learned
That not everything gets used
Some things just sit around
Looking shiney and new.
But I also learned from them
That things go away
Slowly changing things about them
Until they are no more.

So blessed am I
For my writers lineage
That made me fall in love
With the pen
And the paper.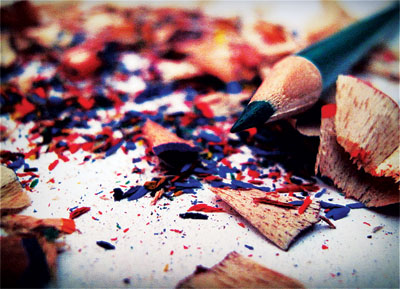 © Rosalee M., Lowell, MA