The Parting of the Ways
October 18, 2013
Here, it is warm and safe.
Nothing else matters.
I lean against you
And rest my head on your shoulder.
My right leg touches your left
as your arm wraps around my waist.
I gently hold your hand
And look up in your hazel eyes.
They smile back at me.
Please smile forever.

It's almost time to part.
Reluctantly, I hop
Off the windowsill,
Zipping up my book bag.
I look at you,
You seem a stranger, or a dream.
Have I really not seen you for
Twenty-seven days?
I try not to focus on the lump
Forming in my throat.
So much to say
So much to do
So many minutes
Flitting away.
You stand up too
as I'm about to leave.
"Come here."
It's spoken with passionate simplicity.
Drawing me close, I feel your arms encircle me.
I let you pull me in.
Wrapping my arms around you tight.
I lean my head on your chest,
Savoring every sensation:
Your warmth encompassing me,
Your heart beating as hard as mine,
Your arms not letting me go.
You don't smell like sweat today.
I was half looking forward to that.
I look up in your face.
Neither of us want to leave.
But we have to.
Your head bends down to mine.
My visor keeps you from getting any closer.
Oh, sweetheart, please take it off!
For a minute, we are eye to eye.
"I love you," you whisper.
You plant a kiss on my cheek-
One, then two, then a third
so close, I might turn my head
and have your lips touch mine
for the very first time in my life.
But I don't.
So you don't.
And so we leave.

Here it is cold and empty.
I have a list of tasks
But now I must sleep
And prepare for another day.
My heart is silent and empty, as my own arm
Wraps around my waist.
I clasp my hands, and in the dark
Try to picture your fingers there instead.
I close my eyes
And lean against a pillow,
Trying to conjure you up.
Your hazel eyes
Whispering words of love.
Please come smile again.

I fall asleep and dream of
A day we never part.
When your arms never need
To leave my waist,
When your hand is mine to hold
Til death do us part.
When I can stare into your hazel eyes
And never take my gaze from them,
Their smile always there to remind me
You love me.
I dream of a day
We'll never kiss goodbye
But only goodnight,
When I don't need a visor
To keep me in check.
I dream, and I hope
To only wake up on that day.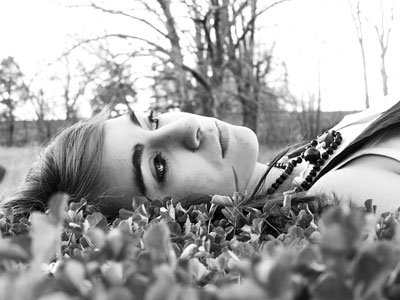 © Jasmine R., Bourbon, MI