Tenebrosity
October 24, 2013
Reverting back to what I was,
This shell I made has come undone.
It's formed a hell an rung its bell and Now I've fallen victim.
You were my crutch, I was in your clutch, and we both sat aside,
To view our creations devastation And witness in anticipation the death of what we left behind:
The fractured lives of two.
Love had its grip and we let it slip and it tore us apart and pulled us up
For all of the doubt we had left out.
A lesson we may have learned,
Was not to care about the learning curve,
And dip, dive, and swerve with the punches;
A black and purple swirl on my eyes,
Though they aren't as bad as our goodbyes...
Less than a minute but always more than one,
I've given you the longest drowned out farewell,
And I can't stand to be your cell,
A prison to your nightmares,
A cocoon of doom,
A heart of dynamite about to go boom;
To create a hole as deep as an abyss.
Now we're alone In the charcoal night;
In This hole we've made--
A hole to our soul--
Where we found out we're alone,
Not together;
Just dead like the weather.
And with ease I crawl away and out of this hole to leave you saying....
"Please,please,please...."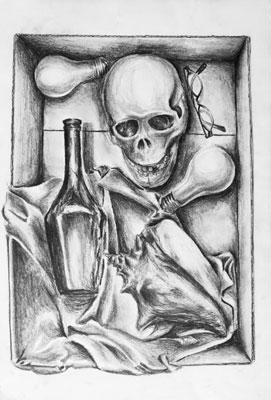 © Karen S., Norwalk, CT