Andromeda
MAG
January 2, 2014
this galaxy traveled two million years
to reach us as a blur pulsing against night's neck,
faint blue where blood flows as history
at the seams of our sky.

this is the farthest
we can see with the naked eye, and i see
its light freezing in the air with our breath lost
among bright and icy things.

and i think
it could be dead
an afterglow of veins protruding from skin
shrinking over a corpse in its cold and open grave;

we reflect emptiness for two million years
without realizing the light has gone out.

and i think
if it takes two million years to hear a galaxy's heart stop,
how long will it take the universe to notice my breath halt?

we could live for an eternity at the edge of the world untouched
by light and sound and

i want to kiss you to bring gravity
back into our landscape, pull the immensity
of that starry spiral into the insignificance
of our hands and your eyes
reflecting the years it took for them to reach mine;

i tell you to hold your breath, hold
ancient light cold on evanescent skin
and listen to the heart of the universe.

and i think
your eyes will close like galaxies dying.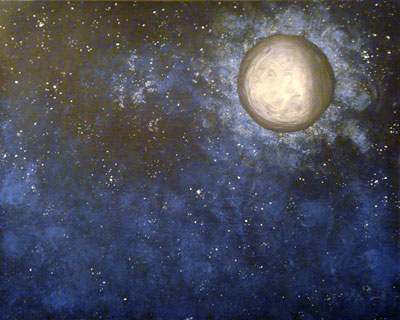 © Allison H., Vancouver, WA