700 Feet
January 19, 2014
I was walking back from the house with his navy blue sweatshirt that he had left.
I stepped on each crack, thinking of the rhyme we sang during our childhood years.
Step on a crack, break your mothers back.
It never said anything about breaking your best friends.
He was on his back, lying as if he was looking at the oblivion of stars.
His eyes were blood shot from the two shots he had pounded five minutes ago.
It had just started to snow.
His cheeks red,
But they we not red from the cold.
For he would have to be alive for that to happen.
They were red from the blood that had dripped down from his cut eyebrow,
And the red tail lights from the car about seven hundred feet ahead.
That were now flashing every three seconds on his face.
I counted.
The snow had now started to pick up.
Drifting and dancing around to the ground.
The flawless flakes around him were now turning pinkish.
Like a fresh pink rose from Eden's garden.
The snow was now covering his body.
And the allusion that it put me under was semi-convincing.
Because it hid the gapping hole between his lower half of his body pretty well.
Which was down the road,
About Seven hundred feet away.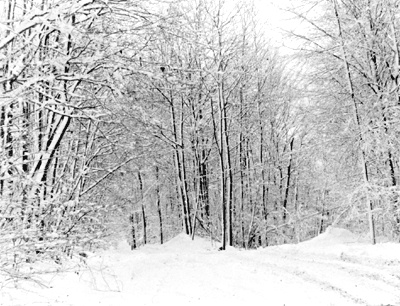 © Thomas S., Portville, NY