A Better Me
January 21, 2014
I feel like a total loser, when I
tried to hit the tennis ball over the net, but failed expectedly, knowing
You just won a match last Sunday.
You asked me how I was doing in tennis.
You said it's fine, everybody needs practice, but
You didn't know it's amazing how much it hurt, when the voice inside me kept reminding,
"He deserved somebody better!"
--somebody better than me.

I feel lost, sometimes,
When you and my friends are hanging out, on the other side of the earth.
I mean, I left "your" school out of my own will, so
I, myself, asked for the loneliness.
My night becomes your days; my sunshine lights up your constellations.
But my "good night", is unworthy of your "good morning".
The little voice inside me tried to console my brain,
"He has his exams. He has his homework. He has his due dates."
He has his life; he has his days.

But it's amazing how fast the so-called loneliness past.
I'm a busy girl. I've got no time for whining.
I hit the tennis ball again and again until I finally score,
--because you asked me to be your opponent when I go back for Christmas.
I revise my paper, for the fourth time already,
--because you congratulated me on my straight A's after the mid-term, and I want your congratulation again.
I read all the books you liked.
I let your favorite songs flow on my piano keys.


The little voice inside me didn't let me be lazy,
"Show him the best of you,
When you go back and visit."
"So work hard, girl, work hard."
You see?
If you deserve somebody better,
I'd just become a better me.


Finally I'm back, in the same continent, same city, same building with you.
I feel like a peacock, with my feathers polished to the point of shining,
While I walked past you once again.
"Stand upright! walk with grace!" Yelled the little voice inside me,
"Did he see me? Did he see me? Did he see me?"
Did you see me? I couldn't help looking back.
And there stood you, looking at this direction.
--I swear to god, even my feathers shivered with excitement.

"How are you doing?"
"Pretty well."
I hear the little "Hooray!" inside my brain.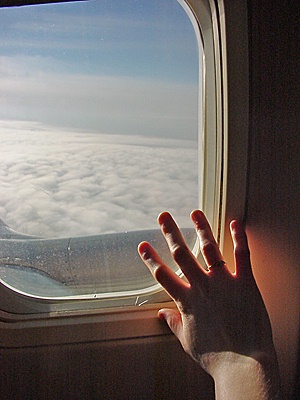 © Greg K., New Lenox, IL