Love and life according to a Sister
January 13, 2014
you taught me this when I was seven.
your defiant tone sparkling in confidence.
"the sky is blue because I say it is"
and "those jewels are actually stars,
brightly burning balls of gas far away.
I asked if I could touch them,
you told me I was too short.
The next spring you said
"when a boy gives you a ring, make sure
you think real hard before you
say yes."
I pinky-promised I would
"Fuchsia is a color, not a place."
How many times do I have to tell you?
"Now heaven, is a place"
I asked you how you knew.
"I know everything."
That winter we sat bundled up,
under the night sky,
watching the stars wink and
the moon nod.
I asked if I was tall enough to touch them yet.
You put me on your shoulders,
and I stretched, fingertips grazing the crisp
open air.
"Did you get one?"
"No."
You set me down and laughed,
the sound enveloped my ears,
I laughed too.
"Don't worry, one day you'll get one"
I asked how you knew.
Sometimes, you said,
tilting your head behind your shoulders
letting your hair graze your face,
"sometimes, you just know."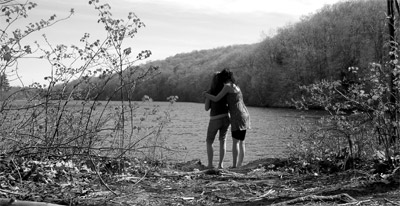 © Paige B., Woonsocket, RI