what i'm worth
MAG
January 25, 2014
curled my hair this morning
and my fingers, too
around the barrel of the iron
which made me good enough.
i held it long and fast to my head
'til the reek of burning hair filled
the bathroom
and ruddy sores swelled on the crown
of my skull
and the tresses fell away acrid and melting
in perfect spinning pinwheels
which clogged the sink with prettiness.

i blacked my eyes this morning
with mascara and bruises.
darker, prettier, more makeup, i said;
'til indigo aurora bloomed on my skin
an infection so tender, so pretty, like flowers
trailing from neck to chest to inner thigh.
harder and harder and angrier i pressed
'til none of me was visible, only garden skin
to hide the hideous girl beneath
in lovely, lacy, velvety pain.

i dressed before the mirror this morning;
tied corset strings around my neck
and slid on rings of thorns, which cut
like hangnails slipped down to the knuckles.
i stood back arched and braced against
the glass
while fingers wandered sensually over
xylophone ribs.
a moment gathering breath, eyes closed –
then violently the hands pressed in
and crack;
'til the new dress slipped on beautiful
over bones splintered inwards
pushing comely against organs.
good.
and i thought of all the compliments
i would get
from all the girls with broken fingernails
run chipped across mottled skin;
girls just like me, whom i loved
who determine my worth in a passing glance.
and though my grin always shows
through lips pulled back by staples
i smiled and smiled 'til my lips split the corners.
and my laughter sounded raw and hoarse
with pain of overuse
and my eyes popped out of their sockets
when they cried, yellowed and burning
and i was so happy i shook and seized
as i looked down at what i had done
so beautiful, finally good
enough.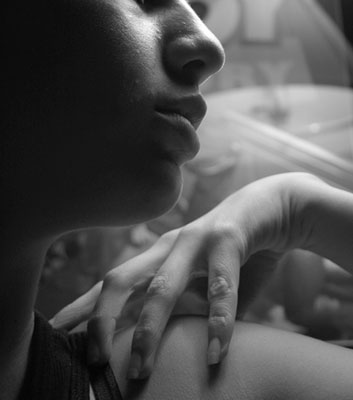 © Rebecca B., Santa Clara, CA