Two Can Bare the Storm
February 19, 2014
I have begun to see their dense words
In the slump of her shoulders,
Eyes resembling tinted glass
Instead of stars,
The curve of her smile trembling with effort.
And still, I see her:
Beautiful.
A girl who has lived as many years as I can count on both hands,
A girl who can't see any worth in herself
Because of a birthmark that stains her left cheek,
A girl who memorizes nicknames and cruel words
Like the verses of a malicious Bible.
She doesn't see love because the hate has grown
Into her skin like putrefied ivy.
And her soul feels muddy and tattered;
tainted ad shattered.
I'm here.
And I have watched her slip away
Like a child's castle fights the tides
For too long.
Now I'm here.
When sanity becomes a game of hide and seek,
And tears flow like angry streams,
My arms will be a safe house.
My words will be a warm blanket.
And when desperate dreams of peace close her eyes,
I will hold her yearning in my hands,
Lift it to the heavens,
And give it to my God who comforts,
My God who has found the weakest of souls in the darkness.
When tired will is wearing thin,
I will give her my strength,
My understanding.
And she will know:
Together we can bear the storm.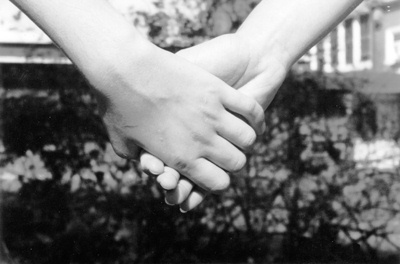 © Lauren G., Pompton Plains, NJ