In my mind
March 6, 2014
In my mind
Misery paves the blistering cobblestone streets,
Tears runs down the screaming rivers depositing into the sea of the lost,
The children's wings are clipped and shackled, never to fly and touch the sun,
The people's faces are tied with barbed wire in upturn smiles that reveal the pain and suffering this world deploys on the rift raft of our crumbling world.

In my mind
Laughter echoes through the membranes of the building,
And sun sets it course on all given life,
Where people dance, laugh, and sing,
And children fly with their beautiful wings,
And the vast meadows entice it's wanders with the sights of wildflowers.

In my mind I can take my mask off,
And my villagers can get the chance to see thy creator's face,
My eyes shine with renown hope,
and my feet pattered down the streets shouting out the joyous noise of love,
Where hearts are worn on their sleeves,
And no one may ever feel broken.

In my mind my demons run wild,
Tormenting and destroying everything in their wake,
Their gleaming fangs inject there poison and controls my thoughts to rivets of red,
Their eyes take hold and all I see is pain and marks of and down my pale wrist,
my wings are stripped to bloody stumps,
my arms and feet shackled to thy own addictions,
The streets and skies rain blood, drowning all in the mayhem of our demons,
Fire burn through all torching and slowly burning all that dwells alive.

In my mind it is me. Although many who have tried to enter have perished some that I trust with all my heart have tasted the flames of this savage's mind.
Enter thy mind if you believe you shall survive,
Enter thy hopes and dreams if you wish to feel the beams of love,
Enter thy despairs and feel the pain that is everywhere,

And see me as I truly am.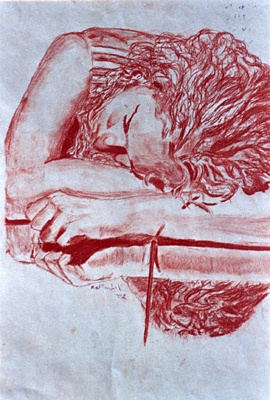 © Mark S., Kannapolis, NC