Wings
March 8, 2014
I sat one day on the kitchen counter,
Swinging my legs to the discordant rhythm of
Clanging pots and pans,
Along with the precise
Chop chop chop
Of her knife against the cutting board.

Shadows danced past my eyes,
So I looked to the birds outside,
Flocking near the window;
Flapping, soaring.
I asked,
"Mommy, can I fly?"
She set the oven's temperature high,
Scoffed,
And replied,
"Baby, you can try."

So I smiled naïvely and jumped from my position,
Yet fell heavily to the cold tiled floor.

One day I held his tools
In my small little hand,
And looked up to the swirling clouds
With admiration.
"Daddy, can I fly?"
He grunted,
Wiped the sweat from his forehead,
And said curtly,
"Maybe if you comply."

So I obeyed his every instruction,
Yet still never lifted an inch off the ground.

I reclined back in the silky grass one night,
And looked up at the stars with tears
Threatening to leak from
The cracking, crumbling well.
I asked no one in particular,
For I thought no one would answer my cries:
"God, will I ever fly?"

A breeze brushed my ear,
And gently whispered:
"My child,
You will surpass the sky."

That day,
I was given wings
And an opportunity
To fly.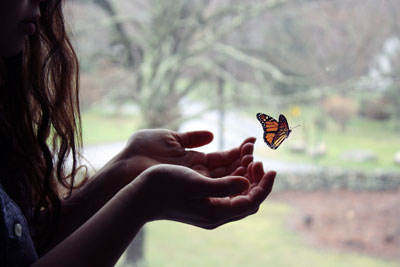 © Sandy H., Woodbridge, CT