Reality is a Wonderland
March 10, 2014
You said jump,
I asked how high.
You said fall,
I asked how far.
You said run,
And I asked if you meant
Out
Or away.

Cheshire Cat grinned like the crescent moon:
"Alice, my dear,
Life's only a game."

But how to play it right?
Burn fire with fire and you get
Smoke.
Fight water with water and you get
Waves.

What a twisted game.

Everybody's after one thing,
And you've gotta race to reach it.
Stretch your fingers to the sun,
Pray for a dream,
Get lost in it,
Disappear,
Get
Lost
Again…
It's a never ending cycle of
Losing the missing
And winning the gained.

Smoke cleared into thick grey letters:
"Who
Are you?"

Who am I?
Why, I don't know,
I have no clue.
You said jump,
And I did,
Off this precipice.
You said fall,
And I did,
Into the murky depths of darkness below.
You said run,
And I sure did;
Ran from home,
Kept running;
Dashed past empty streets and unsupervised cars,
Past crashed hearts and shattered windows and playing cards,
Away from screams and demands and time…
Then I succumbed to your sink hole by the tree
And began falling to the beat of a rhyme.

"We control the puppeteer,
And serenade your closing ears.
Because in reality, you know
Everyone's mad here."

Oh, how true that is.
And I'm still
Falling
Down
This
Rabbit
Hole,
Mad
As a
Poisoned
Hatter.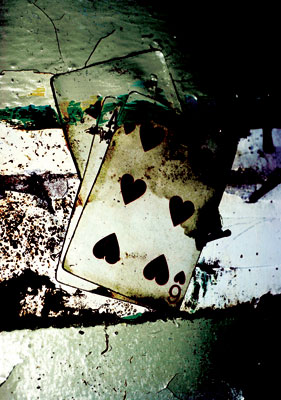 © Tracy A., Scarsdale, NY