Tough Love
March 17, 2014
Love
beat me up in a parking lot the other night.
I guess she was offended that I had been flirting, then
tried to drive off without her;
she threw a fist into my gut, scratched at my eyes
and kissed me until there wasn't a trace of oxygen left
for my lungs to cling on to.
I was in pretty rough shape after that.
She made it up to me, though.
She drove me to my mothers basement and showed me
where she's been living all these years;
I don't know if I ever want to touch those couch cushions
again.
She tells me it's a good life, and
sometimes I believe her.

Love
is really, really irresponsible.
She goes out every night, and sometimes
I hear she'll go home with 20 different people all at once.
She has every address, every pickup line,
every shaky smile
tattooed on her bicep, but
every name is missing.
She'll leave for days, and she won't come back until
she's counted every broken window in New York City.
Sometimes, she leaves blood on the doorknob, and you can tell
that she's been out trying to glue families back together.

We're friends, I think.
I write poetry for her,
give her a home in the creases of my body,
and she does her best to convince my shadow
that I'm someone worth following.
She told me she cares about me.
And sometimes, I believe her.
Love is beautiful in every mask she wears,
her eyes are deeper than her scars,
she's messed up and spontaneous,
she doesn't have her life together and
sometimes I'm afraid that she'll
forget about me.

But the thing about Love
is that you'd follow her to the end of the world
and walk right off the edge if she promised
to meet you at the bottom.
You wouldn't be the first and you wouldn't be the last, but
Love is good at making you feel like you're the only one
who's ever existed.
She told me that if I were to run my finger along her edges,
it wouldn't come up without some dust,
she isn't exactly a clean slate, but
my voice runs through her veins,
along with the sounds of everyone
who came before me and after me.
She told me, her heart pumps music and
her veins and arteries would feel like an emptier place
if I wasn't there.

On the days I do not feel loved, she shows up at my door
and cuts me open.
She asks me, if I cannot love myself,
why does my body bother to patch itself up
when the skin has been broken?
Why do the bruises fade, why do the scars
lay there so quietly?
She tells me that there is music running in my veins too,
and that music is beautiful.
All I have to do is listen quietly, and trust
that the silence won't last.
Love told me she loves me.
And every time she punches me in the stomach
or kicks my teeth in,
it's a reminder that
I'm strong enough to take it.

Love
lives in my car now.
She's a terrible driver but she knows exactly
how to get to where she wants us to go.
And besides, she says,
it's up to me to keep us moving forward.
We've had our crashes and our accidents,
but we made it through together,
and even though Love is irresponsible,
she's faithful.
I'll never try to drive away without her again.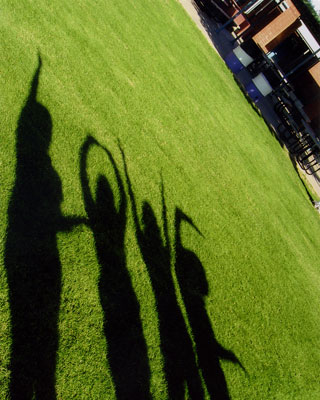 © Lindsay - Elese G., Phoenix, AZ