Thirteen Ways of Looking at the Ocean
March 19, 2014
I.

The wave comes and goes;
Leaves and retreats,
Running away at the times you need it most.
II.

Suffocating in the undertow, choking;
It's never easy to breathe
Crushed beneath this pressure.
III.

It is only nature's way,
There is no stopping this big mother Earth
From spinning round and round.
Your pride will not suffice,
You cannot find the surface.
IV.
Like a magnet,
It pulls you under;
Loses you into the dark abyss.
V.

You only have one second,
Catch and hold the cool blue in your hands;
Before it frees itself from your clutches
And determines your fate.
VI.

An angry rage of the unknown;
Stealing everyone in the way.
For there is no safe hiding spot.
VII.

I lie on my back safely afloat.
No worries about yesterday;
What's done is done.
Up ahead, I see the rescue boat.
VIII.

Swim deeper down under
the commotions of the currents,
fighting through the waves.
IX.

A lack of swim lessons finally blew up in my face.
Should have listened to the forecasts of the tides.
X.

Heed my warning, and don't get too close.
The ocean will consume you,
Until there's nothing left to take.
XI.

A weight
Implanted in your heart.
It won't let you go,
Keeping you prisoner to the dark side.
XII.

It is no one but me who left the life jacket-
Next time,
Plans will be drawn and this will be avoided.
XIII.

Down against the bottom,
Caught in the weeds,
I see a blurry patch of light.
It looks far off,
But I know that life isn't easy.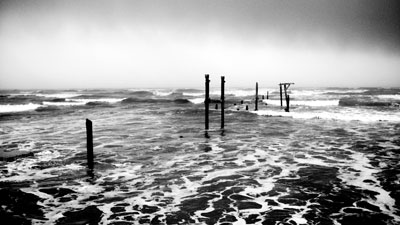 © Harrison L., Ruston, LA