Bird-Shaped Girl-Shaped Hole in the Universe
April 17, 2014
Arched under the sky, she was beautiful,

(though others couldn't see it)

with wings hidden

(deep in her bones)

and blue eyes like a bird held down
to the slope of the sun

(she was a glass globe of falling feathers).

The sweat gathered in lines within
her hands,
fragile

(that she told you to shatter),

even as she stood at the edge
waiting for her chest to hollow

(and it burst).

She willed her fingers to spread so she could join the others,
thousands, with weeping words,
pleas carved into their arms,

(like the unraveling of clasped hands)

that she had only dreamed of after she woke.
And now it was only air that separated them.

(or the singing of bells and broken windows,)

You told her that you could help her forget,
but she shook her head.

(That's what she thought, at least)

Sometimes quiet things aren't meant to be understood, she told you.

(but you knew she wasn't a bird)

And she wasn't silent when she fell,

(because she flew).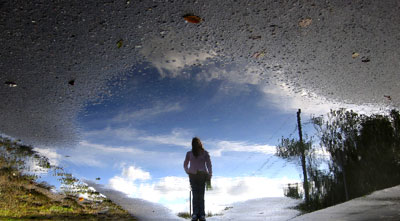 © Daniel H., Oak Bluffs, MA