Wave Good-Bye
June 16, 2014
Irony is that
Rain makes a flower bloom
And showcase
Its naturally beautiful petals,
But can also suffocate lives
And snatch away futures.

Rain is necessary for survival;
Without it, flowers wilt
And sag,
Lowering
Their heads
Down
As they fade
Into the background.

Yet it's so frigid
And it traps you in a storm
That stops on its own accord,
That puppeteers your limbs
To fly this way and that,
That pelts on you ruthlessly
Regardless of your blooming,
Your growth,
And your roots.

How could you tell
When it's too much?
When it's slowly
Drowning you under the flood
Of water that steals
Away your last breath
And all you can do
Is stand tall
And cling to the world
As the ground falls beneath you,
Taking some of you with it?

And then
When you're finally attractive enough—
Finally deemed worthy
To be picked by someone—
Someone chooses you,
Takes care of you,
And then out of nowhere
Sets back you into the soil,
Accidently losing
A few of your leaves and petals
While you're rooted back to the ground,
And your confidence is stepped on
With your fallen aspirations
As the person walks away,
Leaving you dented
With a never-ending sense
Of loss and insecurity.

An inevitable cloud starts to pour,
Mocking and taunting you
With that dry sense of sarcasm.
But even though teardrops fall
From the sky and from your eyes,
Look beyond the menacing mists
That obscure the world.
Instead absorb the rain,
Bloom and grow,
And stare at the backs
That grow smaller as
Their owners walk away.
Soak up the rain,
Wave good-bye,
And begin a new day.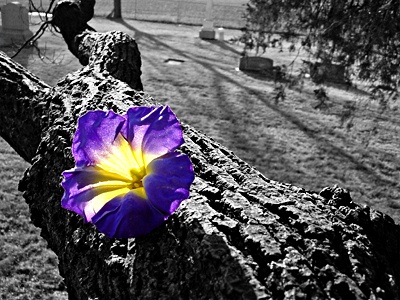 © Greg K., New Lenox, IL