My weird little thing
August 23, 2014


She craves to splash into the lake


For God's sake, she doesn't fear the danger to sink.


Yet, when the sprinkler is on,


The evil, diabolical water drops freaks her out.


--My weirdest, weirdest little thing.


Every single time when we take her for a walk,


You wonder if she's been locked up for decades in the catastrophic house.


Her riotous spirit must be incensed by the evil force constricting her neck,


For the daredevil flounders with all she might until she coughs her heart out.


--My weirdest, weirdest little thing.


They say dogs evolved from wolves, the natural warriors born to slaughter,


But still, my little thing runs away from a cricket feasting on a flower.


Supposedly, they were domesticated as the hunting companions of men,


But why! My little thing barks away all my friends.


--My weirdest, weirdest little thing. 


She is such a wimpy, cowardice chicken,


Shunning away from cats, cicadas, squirrels, everything harmless.


But my silly little thing, somehow smart enough to detect dangerous, mean guys,


Jumps in front of me with all her tiny self frizzling like Sprite.


--My weirdest, weirdest little thing.


It feels like perpetual is her accompaniment,


Who can forever, forever lie on your side on Sunday afternoons.


You think she forever scampers in the sunshine after a butterfly. 


You think she forever greets you when you get home with all enthusiasm she possesses like,


a universe without you isn't worth of her wagging her tail.


You think she forever rigorously endeavors to rid the leash when you take her out.


You thing she always recovers from the resulting coughing in no time at all.


But then once you realize how time flies and how


cruel life can be to a dog owner,


You see her frequent, rapid panting 


and her fur losing luster.


Her joyful gait becomes heavier and heavier as


her increasing weights those aging legs can struggle to support.  


Then finally you realize she can occupy only a fraction of your life,


no matter how intimate you are, how much you try


to stop the moment from passing by.


--My weirdest, weirdest little thing.


But until the day comes, the day of farewell,


she will always greet me with the most gracious smile.


And when it finally does, you will see,


your little thing leaves the world in peace,


as long as you are still by her side,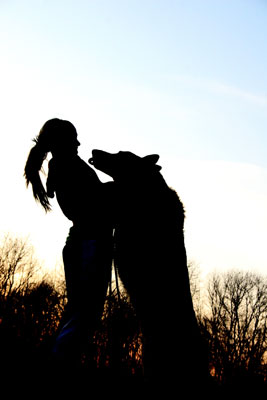 © Brittany U., Terra Alta, WV