Struggling Artist
MAG
October 12, 2014
This isn't what you want.
You force yourself deeper
into this hole
of painted bloody carmines
and deep, commercial,
conventional,
bruising purples and
the black and whites of what love is.
You force yourself into the dead gray
and the chilled ivory of emptiness,
the blackened blue of
idon'tcare
please
letmehave
nothoughts
nothingtodistractme
fromthisnewsong
iwanttohear,
the bitter cranberry of
the inside of casket linings
and the soft, dark brown
of the polished wood outside
of dirt and flowers and grieving air.
You force yourself,
but please,
if you let yourself see
the psychedelic golden colors
of the sunrise blooming on
the mountains,
smiled as tree leaves kissed the wind,
inhaled when autumn breeze blew
burnt orange leaves against your sweater,
exhaled with the energy of conversation
on your tongue, and
laughed at memories of
wild, obnoxious old friends
perhaps you could dig yourself out
and realize you're painting yourself
an ugly color.
You want this robust,
peaceful flood of calm
lavenders and electric teals.
Create what you deserve.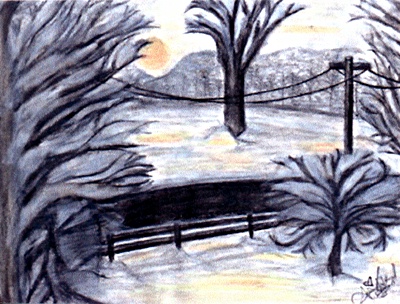 © Amanda W., Nanty Glo, PA