I am the Sun and Moon
October 17, 2014
I am the Sun and Moon.
I wonder why the wind cries through me all night long begging for help?
I hear the thoughts running through nature like fairies dancing on my moon lit snow.
I see the cries and sadness when the flowers get picked.
I want the sound to stop, the sound of a dying bird falling from my sky.
I am the Sun and Moon.
I pretend that I am the protector of nature, the mother of the sky.
I feel happiness when I warm the earth,
I feel fear when I hide the sun.
I touch your soul and bring good cheer to your heart when you are down.
I worry all living things will soon die before my eyes.
I cry when I see young love disappear from the earth.
I am the Sun and Moon.
I understand all living things must leave some day.
I say there is hope, always something to believe in, find it in you.
I dream everything on earth you have been through, peace will come to earth.
I try to cheer the sad and be kind to the lonely.
I hope everyone lives each moment like it is their last.
I am the Sun and Moon.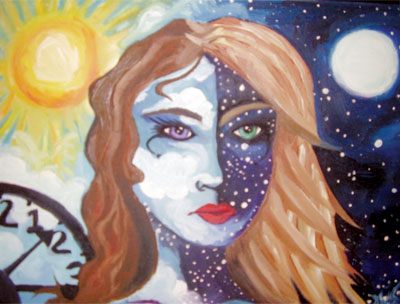 © Amanda S., Attleboro, MA