Savagery
MAG
October 21, 2014
You have not witnessed hubris
In its purest form
Until you've heard twenty-five spirited
Geniuses rip apart a poem,
Clawing at its stanzas like vultures
On roadkill until all that's left is
A pathetic, mutilated carcass
On the yellow lines of a midnight freeway.
It starts innocently:
Genius One suggests
The author composed the prose in a
tragic state,
Alone (presumably) in a dark corner
In a snow-laden studio in
Bushwick.
Genius Two disagrees;
This was obviously a childhood
Poem of raw and indecent descent,
Some ode to mother never known,
A father never understood.
Then Genius Three and Four
Chime in –
And here's the trouble.
A poem can withstand the brute force
Of two preying eyes, or a
Feeble devil's advocate.
But Genius Three and Four swear
They know that story
Lived that lie
Sailed that sinking ship
And everyone listens with purpose and
Bated breath as the metaphors
That don't exist
Are savaged as the poem before it
The beauty of the written word
Is not enough
It must be shouted crassly across
Tiled floors and cinder blocks,
Dragged around for weeks
Crumpled up
Thrown away,
Offhandedly remembered at some
Five-year reunion
The stark energy of
Silent imagery becomes lost in the craving
For elaboration,
Digitalized and painted
In Technicolor hue so all may gawk
And coo at one man's portrayal of
Another genius' idea
Of what the author must have meant
As they rocked
In the corner
In Bushwick
Genius One, Two, Three and Four
Hash it out until they tire
Of their own voices,
Their disciples exhausted from
Swiveling their heads back and
Forth, so the class sighs,
Stares,
Checks their watches and
Scramble on with their day
Poem of brick and mortar in
Shambles
Poem of glass
In
Shards.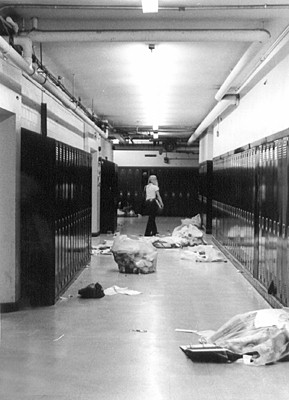 © Halsey S., Marblehead, MA