Green
February 3, 2015
No one is here but you and me, in this dark, black room, no noises to be heard.
Your shimmering green eyes stared up at me, with a pleading look for protection against the monsters in the dark.
You were as fragile as a new born deer, wide eyed at the unknown that surrounded you.
You came closer, hiding behind me as you slowly drifted off into a deep sleep, engulfing yourself into sweet dreams and images that danced through you head protecting you from the darkness that scared you so much only moments earlier.
Your slow melodic breathing brought you comfort.
Your pjs kept you warm while you wrapped yourself in the blankets like a caterpillar in a cocoon.
I wished for the peaceful state you were in would last.
You chased the cat around the room until she was out of your reach.
Steadily standing strong you were into everything you could reach.
Your tiny, slender fingers and small, chubby toes helped pull you onto the bed when it was time to sleep.
Your soft red hair smelled like the Johnson and Johnson shampoo used to wash the day away.
Your smile was as bright and cheerful as a smiling Jack-O-Lantern on Halloween night.
Oh what fun times we shared!
Now that you are grown while you may not be as fragile your wide eyes still shimmer green.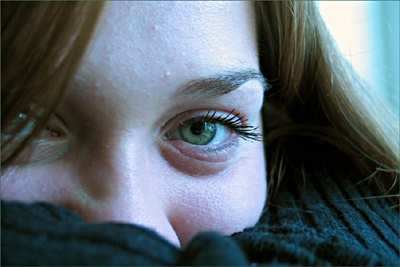 © Andrew M., Belleville, ON, Canada