This Ocean I'm Swimming
February 12, 2015
Love is the shallow layer of life
I had been swimming through all along;
Disney movies and classic fairytales painted the sea clear blue,
white clouds reflected in the glassy water,
tricking me into thinking that if I jumped into love,
I would finally be freely flying in the sky.
Every heartbreak cracked the illusion of transparent waters,
of easy happy endings and "forever" and "always".
With each, I plummeted into the depths of the ocean,
into a world darker than the one I'd been floating in,
as if someone blew out a candle
that was bound to die
but still had the tiniest bit of life left.
All the same, I was convinced I was drowning
(what else would it be if my chest clenched and ached?)
and had prayed with every hope in my bones
that I'd be lifted to the surface somehow,
that a boy would save me
so I could tread the shallow waters again.
But while I had believed I was blind underwater,
that I couldn't breathe without being on the surface,
as I hover in these depths alone,
I finally realize:
I can see.
And I can breathe.
Just as eyes adjust to the darkness,
I adjusted to the pitch black around me;
while not everything here gleams with sunlight,
(as if the water on the surface
was actually that shiny anyway)
as I swim toward the ocean floor,
I discover an underground world,
my own hidden Atlantis
I couldn't have defined from above.
Down here are shipwrecks, skeletons, and monsterlike creatures--
but I just acknowledge them
and swim on by
because sometimes when I do,
I find treasures--
pieces of myself I wouldn't have found
had I stayed up on the surface
with that naiveness trying to convince me
there was nothing more to life than love.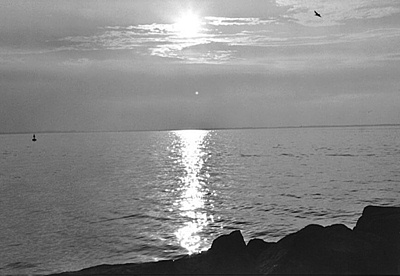 © Amanda L., Cumberland, MD