Biting Paintbrushes.
February 18, 2015
I'm going to paint you a picture,
As a cringe forms on my lips,
My paintbrush is a razor,
And my canvas is my hips.
And when my painting is finished,
And the paint is nearly dry,
I'll wipe away the extra redness,
Just like I wipe hidden tears from my eye.
I can see the pain on your face,
When I show you what I meant by "picture",
You want to look away,
But its color seems a fixture.
"I told you, you wouldn't like it."
I say in a choking whisper,
And as you turn away and fold your arms;
I can feel the silence blister.
"You told me you liked to paint."
You tell me over your shoulder,
I see you looking at the jar in the corner:
My secret paintbrush holder.
I nod though you cannot see me,
And I pull my shirt back down,
I should've known you wouldn't understand,
My red paint has turned me into a clown.
Suddenly you turn round and ask,
"What's your reason for this?"
I notice you don't say "excuse",
So I say, "It's like a bitter kiss,
The razor doesn't hurt me,
As much as the words of others,
So when I paint my pictures,
It's like a blanket that sort of helps to smother."
"You need to stop," you softly say,
As you gently take my hand,
I shake my head and whisper,
"I don't think I can."
You sigh and rub your arm,
Taking me in as a whole,
"I know it's hard but you need to know,
It's not impossible."
"How would you know?" I ask bitterly,
As I stand there looking at you,
You roll up your sleeves and I take in your scars,
"I used to be a painter too."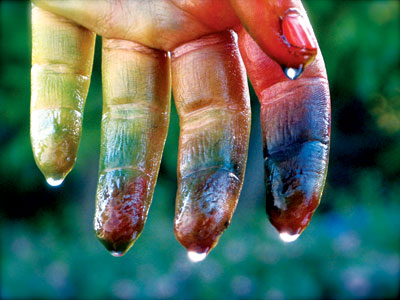 © Allison F., Menlo Park, CA