Empty Spaces
March 6, 2015
She couldn't stop giving pieces of herself away.
Every time she would come across people who needed something, anything, she ripped herself apart to make them whole.
She gave her heart to Tim, she gave her control to Aurelie, she gave her friendship to Jenn.
And they only gave her sprinkles of hope in return.
Yet the bits are what kept her alive. She used them to fill in the gaps she created trying to please them, but they weren't big enough to mend the spaces inside her.
She still felt empty. She kept feeling empty.
She wanted to disappear again. But she didn't want to want that.
She wanted the flowers and sunshine of spring blossoming inside her, but instead it continued to snow and freeze. She moved in slow motion. She didn't move.
She let people push her aside until she was a child again.
And then in her innocence and naivety, she asked for their forgiveness;
Laughing at her stupidity, they granted her wish, and when she expected  change, they gave her the same exact love:
Cold, hard, and never enough.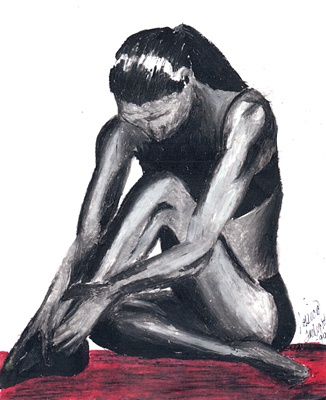 © Jessie Y., Ahwahnee, CA