Nighttimes Addictions
March 17, 2015
I stay awake all night,
as the sun finally goes to bed.
The moon greets me like an old friend,
but I know there is a side to him I can't see.
So I walk into his house blind-sided,
with my arms open for surrender.
During the day nightmares haunt me,
"come," says the dark, "everyone will be too scared to bother you here"
And I take the serenity over the battle
even if a white flag is the way they won. 
By this time of twilight the crikets have rested their legs,
I look around but even the voice ushering me into the blackness is gone,
I am too far in space for any noise vibrations.
Years pass but they are only lifetimes,
all I wanted was for my song to be heard,
was it?
I believe I am speaking into the wrong microphone,
becuase no one is calling back to me.
Even when I was alone, I had myself,
and I have found a way to escape my own prison,
now I just need to break out of the handcuffs holding me hostage.
The years weren't lifetimes,
they were a portion of one,
a portion of mine.
The sun has awoken,
and so have the crickets.
I may be scarred with the nightmares,
but i can hear myself thinking.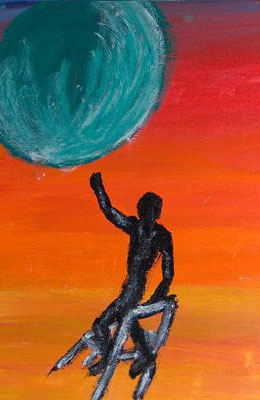 © Maegan F., Harrisburg, NC