Dictionary of Emotions
March 26, 2015
Maddness, hatred, love and joy,
they're all different shades of the same color.
Tears, laughter, bruises and blood,
in the end they have the same epilouge.
Words, whispers, screams and melodies,
don't they all just mean the same thing?
Dreams, fears, wishes and pleasures,
in the dead of night I can hear you singing.
Mine, yours, theirs or ours,
it's a secret I can keep.
Genius, imperfection, ridicule and random,
enough of each and you have yourself a person.
Anxiety, eye contact, bitten nails and wails,
who would have thought it could be you?
Empry, lonely, together and alone,
now darling, aren't these the same notes we are writing?
Trembling fingers, fluttering eyes and shaky breaths,
the same keys we are banging?
Madness and love,
they seem to have the same source.
Hatred.
If only you didn't cause me so much,
Joy.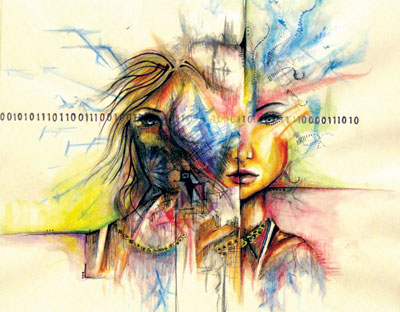 © Melissa W., Fayetteville, GA