I Run
April 18, 2015
I run,
Leaping over branches, weaving among trees
Flying through space and time
My feet are light as a deer's.
Sometimes
I inch along
Shuffling through fallen leaves,
The world slows down—
Spinning to the rhythm of my footsteps.
I take time to look around,
To notice each tree, each shade of summer, each busy squirrel.
I have no destination
No planned rout,
I run for the love of feeling true exhaustion,
For the joy of discovering what new surprise waits around each corner.
I run down trail after trail
Turning to the left,
Then to the right,
Until I forget where I am
I run with all the creatures of the wild
Each of us running our own direction
Each of us running at our own pace,
Yet we all run together,
All run because of the yearning the creator imbedded in our hearts.
Out here under the trees my being shrinks back into perspective
All the fancy ornaments I burden myself with float off in the wind
And I am left tiny
And exposed
And happy.
I realize that I am not any more important than the creatures around me
And this relives me.
I don't have to perform any great deeds,
It is not up to me to save the world;
All I need to do is run the path that was laid out for me so long ago. 
Suddenly the sky burst into an orange glow
Liquid fire splashes off the clouds,
Dripping down through the branches of trees
The world is drenched in the Creator's glory.
I turn
And run—
Leaping, bounding, inching, shuffling—
Toward the setting sun,
Going home.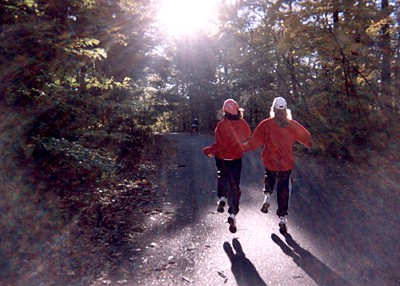 © Jacqueline W., Milton, MA