in late hours
MAG
June 24, 2015
my thoughts tonight
are equal parts arresting
and demanding,
matching the shrill of silence
in my ears and the cold elegance that
I've learned to call the sound
of my pulse, rushing harshly past
my ears which I clamp tightly to this pillow
that is never you.
i stare up at the ceiling and start
to feel hollow, as if all I am amounts
to bones and this ache that has become
so natural to my brain that I almost
can't notice.
Around 3 the sky becomes brown,
polluted with light. Something wanted to rob
my view of the stars, the only thing that I
sometimes believe you can see too.
Every time I swallow there is a fist at
my throat,
and I'm aware of hands that aren't yours,
pressing deep into the curvature of my spine
to make my muscles ache, and paralyze me
until morning.
I haven't told you that
we'll have cotton sheets
when we live together.
They're light. Did you realize
I can't sleep without blankets?
Exposed skin in late hours
has always made me scared,
as if fabric simply protects me
from what lives in the absence of light,
and the absence of you.
I haven't told you that
I'm embarrassed about my collarbones
but in the late hours before I knew you
I wished someone could love them for me,
just like I've always loved the curvature
of shoulder blades.
I haven't told you that
with the right words
my stomach twists
and I can't help but let myself
love you, despite how guarded
I used to be.
I lie here painfully,
juggling ideas of bare legs tangled
in cotton sheets, your lips
by my collarbones, and mine
exploring your shoulders.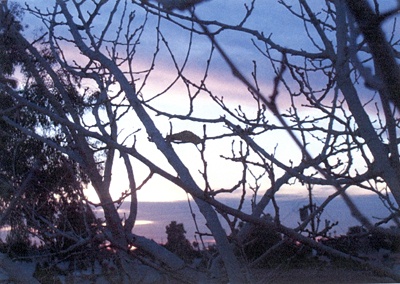 © Delia R., Phoenix, AZ