Knit and Stitch
July 16, 2015
When I was only an infant,
My grandmother knit me a blanket:
About 60cm long and wide,
It was a baby pink,
Covering my tiny shoulders,
My fragile fingers and toes.
Within the year, I grew out of the blanket.
Already, my legs stretched out from it's cover,
Not enough fabric to keep my body warm -
So my grandmother added another square,
Doubling the length.
This square was a bright pink,
But still just as soft as the original.
As the leaves changed from green to yellow
And back again,
My blanket continued to grow.
Over time, the yarn and wool grew thicker,
Not as smooth,
But with me it grew, nonetheless.
I'm eighteen now,
And my grandmothers fingers shake
Too much to knit more squares.
Her hands, weary from years of stitching love, quiver.
For the first time this year, I knit my own square, and added it to my blanket.
It took a while to decide on the string, but I discovered a blue-green hue,
Stitching it to the rest of my covers,
Squares I'd gathered throughout time.
This year, I also decided it was time to create a new blanket
To keep someone else warm.
So when the wind blew in the cold in January
And frost was all that could be seen,
In the warmth of that house and in the kitchen
I began to knit a ruby red square -
And before the night was through, I gave it to a boy with eyes that matched my own square 
I hope he picks his colors wisely.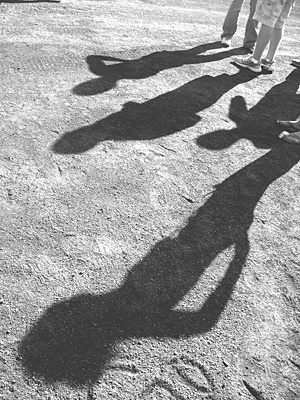 © Trella R., Mountain Lakes, NJ