VI Kings
August 25, 2015
If I could text you
I'd have so much to say
I know you're not sleeping
I know you're still awake
Are you thinking of me or is
That thought passe
Is it cheese to say I think about you
Every day
Right now I'm curled up in my
Favorite sleep shirt
It's the red one that says
Don't worry, Be happy
Remember it?
My hair is in a messy bun
You said you liked them
Remember when you asked me how to make one?
Yeah, I haven't felt like combing it
In a while
I'm snuggling with the softest blanket ever
It's green and white and has real fleece
Smells like Mama and weighs lighter than a feather
Cappy's with me and I'm listening to Bubbly
And writing in this notebook
I know you don't need a visual aid
To remember what I look like
Or did you forget that, too
Did you?
I wonder what would happen if I called you
I've been dying to
Or if I could text you
I'd have so much to say
Like:
Hey, I know we haven't talked in
Exactly 50 days
But I'd really like to talk to you...
Would that be okay?
My grandma just had surgery
And she's doing pretty bad
It scares me to see her looking so sick
And feeling oh so sad
Plus, I miss you (Do you miss me?)
It's so weird without you, man
I hope it's not a problem
To text me back if and when you can
How would you feel if you got a text like that?
My guess is- you won't be texting me back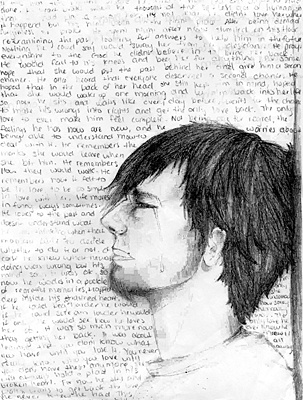 © Annie M., Columbiana, OH