Old Women Dancing
MAG
November 16, 2015
Their slender bodies lunge, the broken language
of beats and counts, glamorous leaps finished,
slowed to a side step. Their gestures, in love
again with the pure power of curves,
rise toward the sky, and fall away.
On the ballet bars their hands and fingertips
tremble in the tense prayers of little reach
and balance. The grind of bone then
socket, and the sigh, the caught breath,
the grunt of the body laboring to give
life to itself.
I wonder, on the long walk home
from the studio, do they still dance
under the moon, drunken? Stands full,
clock moving, the one in black nylons
and jazz shoes says to herself, up 2 down 3
and the phrase, as ever, sounds musical.
Radio love songs crooning after the baile
in the Chevy's front seat. The girl leaning back
as her raven hair flames in the shuddering
light of the movie outdoors, but now she drives
gliding toward the end. A glass wand
of autumn breaks over the light stage.
Freedom in old bones, wings begin to sprout
at her back. She turns in the darkening air.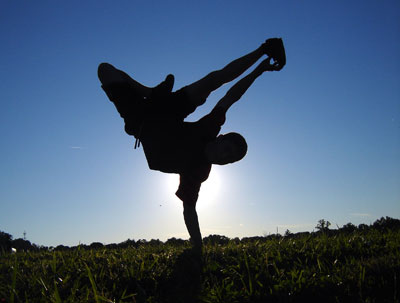 © Seita O., Louisville, KY