Children of the Court
November 12, 2015
Their light figures charge up and down the court, the motivating language
from mom and dad, a dreary jump shot
rose colorlessly to a stutter. Their gestures, in exitment
always with the pure geometry of a hand
over their shoulder, lowers, and fades away.
On the benches their hands and fingertips
tremble in humoring continues prayers of balance
and three-pointers. Then, the grind of brain
and muscle, the deep breaths,
the grunt of the body trying to give
birth to itself on the court. In their toiling and gorgeous
efforts, I wonder, are they truly loved
by their fathers, by their mothers—
joining their hands in hope, rocking
back and forth to the score board?
the players in their sleeveless jerseys
and ankle-strangling sneakers
stand empty, time frozen,
SWISH!
They go home happy,
but for the ones that didn't win
for the ones that didn't get the
SWISH
a father—a mother leans back in the Chevy's front seat
as their disappointment ricochets off the curbing air
to the lowered rear window,
they continue driving, 
traveling toward home. A sparkling darkness
of autumn's gleaming light breaks through the windshield,
men rise up in young boys, their dreams trampled upon 
their wings clipped from their backs and feet.
The ball turns.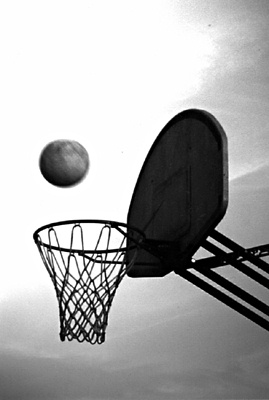 © Cassie H., Carmi, IL