The Judgement of Zylia
February 21, 2016
Is it so, the rumors gathered
possibly be revealed true?
Eyes of green danced among shadows
eyes whose darkness haunts, pursues?
Can it be the monster's captured?
Cursed be we, who she entertains
Can a mallet end the battle 
'gainst the spawn of evil's reign?
"Order in the court again!"
Two majesties within the room
On thrones of judgement, one the judge
The other subject to her scepter
Known foes held close with a grudge
Sheepish smiles tend to flee
When wolves devour half the flock
So it is with Zylia's grinning
"Innocent!" she cries, she mocks
"Woe is me! Unfortunate favor
surely's made me the sacrifice
Who are you, oh perfumed one,
to save this crowd from my advice?"
Pock! And silence greets her taunting
The face of earth, aged, knows her course
Saddened, but firm, the task's daunting
Destiny's come to the court
"Daughter of the finest evil,
crafted power in your heart,
light of youth has left your eyes
Now they show a forest, dark
Goddess of manipulation,
for your deeds a deed's exchanged
My Guilty verdict's been forced
You are sentenced to be hanged!"
Death's glare haunts the onlookers
Urgent whispers slightly heard
Fail to shake our Zylia's grin
A murderer to be murdered
"Wait" a voice quietly shatters
Dreaded fears of fates unknown
Girl in white, the youngest triplet
Steps out from the masses alone
Past Zylia's disturbed expression
Whose smile she'd finally dropped
Past the line of common impresion
Determined to interrupt
"Master of the court, you're no master to her
For if you give this punishment, disaster will occur
Her pleasure is in legacy, her legacy's a stage
She's the star of her own play and you are writing the next page!
Act 3, The Eldest Seals My Fame
Is that what you desire?
Eternitites will know her name
Stories never tire
You're giving her eternal life
Executions endure
Are you prepared to serve her and make her evil's martyr?"
The Judge stared at our girl in white
Ludivine hid her face
Omnipotence in minds combined
Had redone this closed case
And thinking with enlightenment
The Judge redid her phrase
New understanding focused on
The next generation's days
"Mortal of manipulation,
for your deed a deed is due
To walk stripped of identity
is how I re-sentence you."
The congregation shifts focus
The Judge sits in the limelight
Zylia, rendered motionless
Stands at mercy to her plight
Speechless is she, who's voice had racked
excruciating pain
But freed at last, the audience roared
Her fame the Judge attained
"Leda..." She utters threateningly
and yet her powers fled
The people were excused from court
In mind, Zylia was dead
No legacy lives on in hearts
ruled by curious fear
No legend spoken dreadfully
er' enters angered ears
Ludivine won victory's crown
But quiet beauty's best
This poem is the last of her
Zylia's tale's lost interest.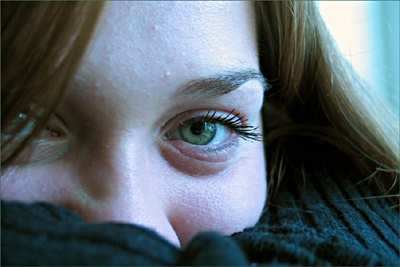 © Andrew M., Belleville, ON, Canada