Still Beautiful
May 22, 2016
Jagged lines stroke across the tip of my eyelid
Like a fine brush, filling in the age and experience
With the delicacy of a pen lid,
With the weathered song of the rain.
Wintry, thinning silver hair flies in a magnificent crown
Like a silkworm, sheathing itself in the slow, breathing flesh
Of a weaver, a textile, an artist:
I breathe as the wind whooshes my hair into a honey pot.
Pale, sun-lit skin exhales in the harsh elements sighing from the sky,
And the darkening clouds thunder above in a parody of firelight,
Echoing inside the tight steel eminence
Of a defiantly aging frame.
Circles sweep dark purple bruises under the eye;
Unveil the age of the bright purple irises:
The pink, love-heart shaped lips curving upwards in a beatific grin,
And the lines around those lovely lips wrinkling in discontent.
Powered like youth as it captures the fields and daffodil leaves in 3D imagery,
Lit by the oxygen flitting inside her nostrils;
She shuttles back along the lonely, deserted road,
And flutters her eyelashes like a page on a book.
A lived-in face;
Perfect and still beautiful in its elegant grace.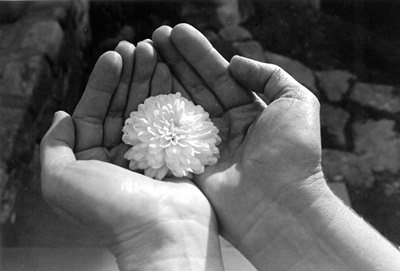 © Beth S., Marblehead, MA