To My Sister, My Strength
May 20, 2016
Sister, I sit here remembering you.
In a circle of warm grass, in the summer sun
Where I remember your shimmering hair blowing across your gentle face
I see you in the clouds above me. Floating across the emptiness
Smiling down raining brilliant laughter on the drowsy, limp grass
Tired from the feet of millions.
Tired from the blistering heat
That beats down on us from every direction
Sister we must stand strong
Not be pushed down
The world shall not conquer us
Like the grass we will keep our heads up no matter what
No matter how many people shove, and kick us
No matter how hard the heat hits us
We will be Iron, Steel, Unbreakable, Unstoppable
Sister, I sit in the darkened room
A room you used to occupy
But now empty
Alone
Lost without you
In the darkness
Of your absence
Will I be able to stand without you at my side?
Can I withstand the the pain and brokenness when you are gone?
Sister, as I watch your cloudy form, drifting, I gather my strength
Close my eyes.
And with you in my heart I go forward....
Step, by grueling step
I stand up against this dry parched desert of a world with you as my strength.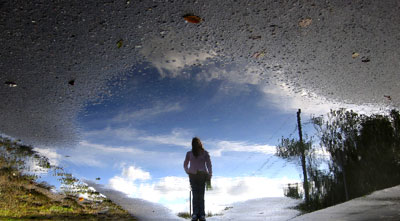 © Daniel H., Oak Bluffs, MA