angel's lament
July 27, 2016
He says,
holy girl, you hold the wet sun in your red mouth.
I suppress the poems that twitch under my tongue
and kiss blasphemy back into his lips.
His fingers, long and calloused,
run up the spines of where my wings would be,
black and burning;
I say, the sun tastes like blood and raspberry syrup.
I touch the crucifix fastened tightly
around his long neck, delicate like a woman's should be.
I feel it's weight underneath my skin, golden and lead-footed,
my gilded lover.
He hums Gloria in Excelsis Deo
with my head resting quietly on his shoulder.
I don't know the words,
but he kisses my chest, flushed skin bruising, a worship of his own;
he traces p r o p h e t with a firm tongue and I wonder
if I am to be John or Jezebel today.
I am unsure when he abandons the gaze of God. I
am not a Catholic girl;
I know nothing of confession.
Did he enter, feet fidgeting in tightly knotted sneakers,
and start divulging sin after broken sin? Did he say,
She was fifteen and she begged and pleaded and cried and
SCREAMED and
SCREAMED,
my holy girl pinned tightly underneath me,
a Bible on my nightstand and a cross above my bed.

I feel gutted when I return home,
scooped clean and pearl pink.
Peach cobbler
clings to our dirty forks, and I let the hot water numb my hands,
assuring my parents all is well. I want to
curl into the dishwasher,
warm and wet, fresh like the ache of a womb;
I wonder if one day he will lose God completely,
animal blood and instinct bones,
if I will feel my stomach grow and stretch.

I am a blue girl, cobalt and ill in the shadow
of a red hot volcanic man with a rosary clutched firmly in fire poker fingers
and I worry for a child
who does not exist yet, but could,
indigo and wheezing,
little plum mouth torn raw with screams.

My back smarts where
phantom feathers would furl smoothly.
I never asked to be an object of God,
a girl who curves and dances like
triumph. He made me into a Prophet.
He falsified my
mouth,
where my screams ring hot and baking in Bethlehem heat,
where the sun is drying,
desert stomach where my unborn son is crying:
Aye, I am haunted. Aye, I'd call him
John.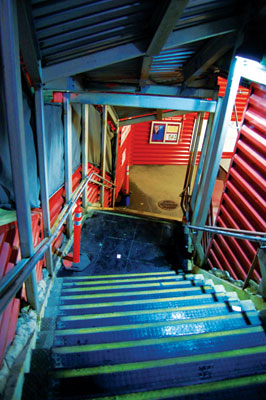 © Karen C., Holbrook, MA