Eulogy of a Dying Star
MAG
September 23, 2016
This place is colder than frozen hell,
Blacker than the inside of my mind by night,
When ghosts whirl about me, fallen leaves
In a tornado of absence.
Where are my friends?
My family? My children?
Gone, long gone, fever dreams that grow
Fainter with each spindly death rattle
Of the perishing sun.
Truly this is the end. There is no laughter here,
Now that the stars have died.
And yet I can't help but smile.
I am cloaked with the ashes of a dying star,
Fiery Hope that fuels me even now,
That I could make weeds into mighty oak trees,
Fashion mountains from grains of sand,
And still have enough warmth in my heart for those
Who have killed a thousand sparking suns.
Let the vipers spit, the scorpions sting,
The ghosts howl obscenities to the four winds.
As for me, I shall not be moved.
There is a world's worth of stardust
Inside my veins, from far too long a time
to contain,
Blood pumped from a heart, to a brain
That is too diseased with grace and graced
by affliction
To stop sparking with mad thoughts of ruin.
I muster my strength and squash my sorrow,
Smearing the murky night's blood across
The sky, red herald of an impossible dawn.
And, in spite of the odds, I can't help but laugh
And believe in miracles.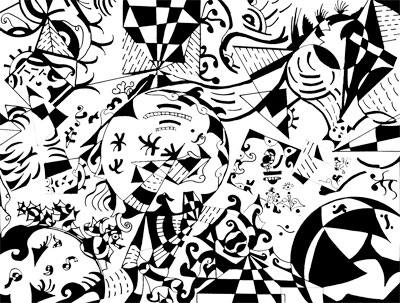 © Jennifer K., Richmond, CA